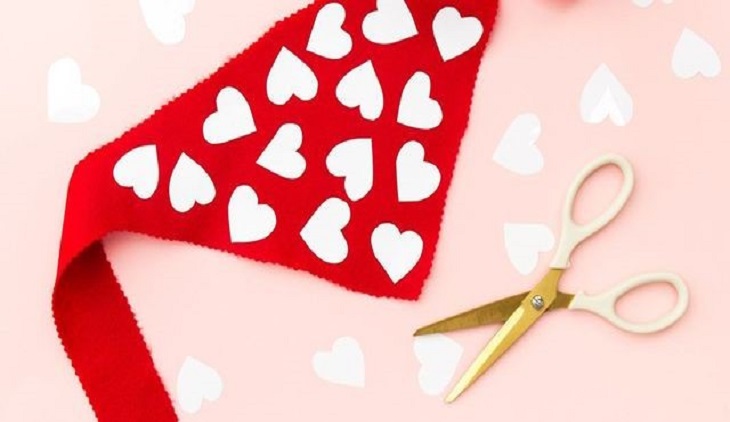 The month of February is here and the smell of love is all around us, couples heading out to retail stores to buy gifts for their loved ones, while some are searching through the web just to find that one item that'll truly leave their significant other in a state of shock and awe. When it comes to couples, there's one thing that men find it most difficult to do, and that thing is none other than getting the perfect gift for her. Well, here to help all of those men that seem to be troubled about what to get her this valentine day is our list of 4 Valentine's Day DIY Gift guide. So, without further ado let's just jump right into the topic.
PAINT YOUR GARDEN WITH FLOUR HEARTS
Sometimes just being simple, and romantic can do wonders in a relationship. So, starting right of the boat with our simplest DIY gift to make her fell in love with your aspirations is flour hearts. If you have a garden, a cardboard cut-out in the shape of a heart, and some extra flour lying around the house. Then this might be the perfect time to utilize it, and turn it into a spending gift. Just call her, and tell her how you planned a romantic dinner at home and before she comes your way. Use the heart shaped card board cutout, and some flour to chalk in tiny little hearts from your driveway to all the way back to your garden table. Where the dinner is supposed to take place this will be no less than a romantic getaway for her.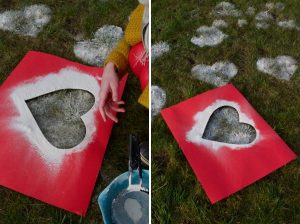 CREATE A JAR FILLED WITH THE BEST THINGS ABOUT HER
Cupid works in pretty mysterious ways sometimes, you'll end up with a partner that to no end will sometimes think that she isn't pretty or she isn't smart enough for you, when in reality you know in your heart that she means the world to you well, this Valentine's Day time to put those feelings of your in-front of her. If you have an empty jam bottle around your house, a small rope thread, and a handkerchief. You can easily create this item in a few minutes, tie a noose around the jar with the thread and place the handkerchief on top of the cap elegantly. Write out all of the things that you love about her, place them in a jar, and voila you have a perfect gift for her. If you can't seem to find the right handkerchief they do have pretty amazing Valentine's Day Sales on certain items like this. You can probably get the best looking one at pretty low prices.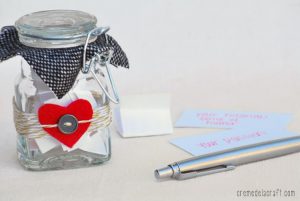 TEA BAG HEARTS FOR HER
For those that love tea, this beverage means their life to them so, why not take advantage of it this year, if you know what her favorite tea is. Just head on online and find some special Valentine's Day Promo Code for tea products, use these codes to purchase the tea bags that she so kindly loves, and cut them into a heart shape. Make a box out of it and use it as a gift for her, you can even use a cheesy line to make it more fun like. Every time you dip the heart our love grows stronger like your teas flavor. This particular item, and line is bound to make her smile.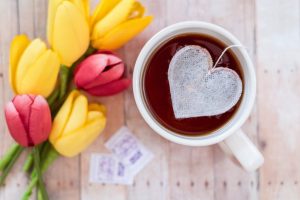 COOK HER FAVORITE DESSERT
Every woman loves a man that can cook, they might not say it, but deep down in their hearts they sure do want their man to try and recreate a meal for them once in a while. Which is why the last item on our DIY gift guide is for you to make her dessert. There are thousands of easy cooking recipes on the internet, and a thousand different variations to help you make it in even easier steps. So, why not just take advantage of it and give her the best dessert you can create. If you are worried about the products then you can easily find them in thousands of different online stores take TVC as an example. You can find multiple Valentine's Day Voucher Codes on some amazing retail stores, and well some house-made cooking stores too, if you mess up your dish. But she doesn't has to know that.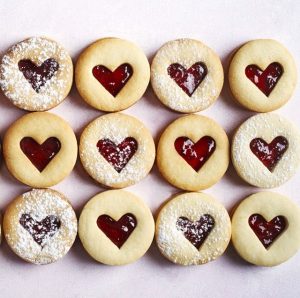 So, with this our list of DIY Valentine's Day gift guide comes to an end. We hope that you find this blog helpful, in order to create the best gift for her.
Author Bio
Amy Amelie is a loving mother of two a boy and a beautiful girl, over the years she has gained quite a lot of experience while managing those little whippersnappers and is now writing to share her experience with other moms out there. you can find a ton of her other blogs at TopVouchersCode.co.uk.
Categorías
Tags