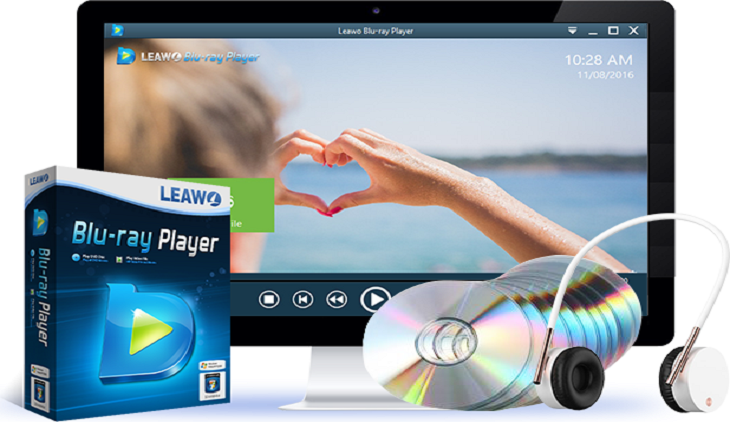 Just a few days ago, I got an ASUS BW-12D1S-U Lite External Blu-ray drive that's announced to provide 12X Blu-ray burning speed as a gift from my friend. To fully make use of this high tech gadget and get 1080P home movie experience, I purchased some wonderful Blu-ray movie discs from Amazon, including Moana, Rogan, and the complete 8-film edition Harry Potter. I thought I could then get an amazing Blu-ray watching experience at home with my computer. But the result failed me for the computer has no default Blu-ray disc player to play Blu-ray discs. Only then did I realize that I need a Blu-ray disc player software app.
Currently, no computer has a Blu-ray player software app attached. Microsoft even dropped the DVD disc playback since Windows 8. Of course, if you pay extra cash, the computer seller will install a paid one for you. Well, I would firstly try some free Blu-ray player software apps to play Blu-ray disc on PC. I searched "free blu ray player software" on Google and then came across Leawo Free Blu-ray Player. And now, I firmly believe that this free Blu-ray player software is exactly what I need.
It's widely known that Blu-ray discs are generally released with different region code restrictions and some even come with disc protection technologies, which have been the biggest obstacle in Blu-ray movie playback. To play Blu-ray discs on computer, if you get a hardware Blu-ray disc player, you have only 5 times of changing the Blu-ray disc player region code. This has been a great inconvenience to movie fans, since they get Blu-ray discs from various countries and regions.
To solve this problem, many Blu-ray player software developers provide different solutions. The CyberLink Corp. purchased the Blu-ray authorization from Sony, and therefore its PowerDVD will cost you at least $49.95 per single 1-year license. However, Leawo Software adopts advanced technology to overcome the disc region code restriction and protection to make Blu-ray discs region free, and what's more, Leawo Blu-ray Player software is totally free.
Leawo Free Blu-ray Player is a thoroughly free media player combo for you to watch any media content on computer without any cost. It has multiple wonderful features:
Region-free Blu-ray disc player to play Blu-ray disc of all regions and with different disc protections;
Free DVD player software to play DVD discs from region 0 to 6, and CSS-DVD discs with ease;
Free HD video player to play 4K, 1080P, 1080I, 720P, etc. videos without any loss in image dot frame and sound.
Free audio player to play any audio files, including songs, narrations, broadcast file, etc.
Not only play Blu-ray/DVD disc, this Blu-ray media player software also plays Blu-ray folder, DVD folder, and ISO image file.
Support to play video and audio files in 180+ formats from various origins.
Select subtitle and audio tracks from source media files, or even add external subtitles for video playback;
Adjust video and audio during media playback for better movie experience;
Useful power manager to monitor the battery status.
The surprising thing is that this company not only provides free Blu-ray Player software for Windows computer users to play Blu-ray movies on PC, but also offers a Mac Blu-ray Player for free. The Mac version of its Free Blu-ray Player gets exactly the same features as the Windows one.
This article is in Eglish for one collaboration with Inquiry 
Categorías
Tags