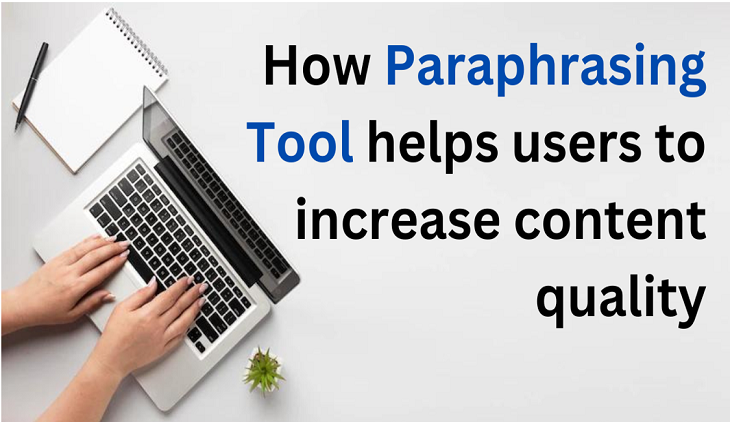 Any online business, whether new or established, needs to offer consumers original content and information about their goods and services. Any type of writing, whether it be an academic paper, a blog post, or an article, must be original and distinctive. So what if you get reputable content in a few seconds? Yes, using a paraphrasing tool can improve the quality of your content within a few clicks.
In digital copywriting, if you are not using unique and quality content for your product or website, you are not going to win the race. Because search engines want optimized content and users want user-friendly (easy-to-read) content. So, paraphrasing, give a solution for everyone. Let's discuss more about the paraphrasing tool.
What is a Paraphrasing tool?
Paraphrasing tool is a digital tool that reads the whole content or article and then change its vocabulary instantly without changing its original structure. Paraphrasing tool provide reliable content that you can post anywhere you want.
Paraphrase tools are also called spinning tools, sentence converters and article rewriting tools. When rewriting sentences, many paraphrase tools give you the option of selecting from a variety of categories.
How does Paraphrasing tool improve the Quality of Content?
Paraphrasing tools are extremely vital for students, researchers, teachers, freelancers, and website owners to improve their content. Creating original content is a very hard job on a daily basis, which is why people use paraphrasing tools to avoid plagiarism.
By increasing your confidence and learning different writing styles, you can succeed in content writing with the aid of paraphrasing tools. These tools enable you to paraphrase content with exceptional precision while avoiding the risk of plagiarism.
You can use these tools to produce original, attention-grabbing content that has never been seen before. Let's discuss in detail about the functionality of the paraphrase tool.
Improvement in Readability:
One of the most important components of writing quality content is creating engaging and interesting paragraphs. If you write content, then you likely understand how crucial it is for your article to be readable.
Fewer people will be able to read your article if it is difficult to understand due to complex vocabulary. Paraphrasers help to enhance readability and improve the content's quality. You can also use the readability checker to make your text easier to read.
When writing original content, effectiveness can be increased by using a paraphrasing tool with a variety of modes and styles. For your information, the original text's output form is shown with the changes highlighted. You can develop your ability to write compelling content with significantly better words in this way.
Eliminate Plagiarism:
It is a really challenging job for any writer to write unique content. Both search engines and readers dislike reading copied content. Humans are not simply like the copied content, and they leave a rude comment or just leave. On the other hand, search engines either lower the page's rank or drop the website from their index.
AI paraphrasing tools come with special modes designed to eliminate plagiarism. Any duplicated text can be easily rewritten to make any similarities between the original and paraphrased versions completely disappear. This technique makes use of the effective capabilities of artificial intelligence and natural language processing. Tools for paraphrasing have large libraries with a variety of words to replace. As a result, you receive original content.
Make Sentences Flow Better:
If you want to write quality content then you should make a better flow of sentences. You must concentrate on factors that aid in avoiding fluff in a passage. The readability score is influenced by the content flow and concentrates on the breakaway sections.
You can alter the structure flow by selecting a specific paraphrasing style that modifies the content using AI-based options in a paraphrasing tool. AI attempts to shorten the content's word count in order to adjust its length. Making the passage readable through the elimination of extraneous words and phrases is the goal of paraphrasing.
Time Saving:
There are many things other than writing that demand your attention, whether you're a student or a content creator. Paraphrasing tools are therefore a useful way to save time and effort. Paraphrasing can save time, improve understanding, and give credibility and authority to your work.
Improve the Content Tone:
Even if you are a professional writer, it is almost impossible to identify or adapt the writing style and tone when you manually paraphrase the content. Compared to the writer, readers are more likely to notice changes in tone. If the tone shifts in the middle, they might become perplexed about the message being conveyed.
You can rewrite entire articles in one tone using some AI paraphrasers. Numerous tools have settings that, if they are available, allow the user to set the tone to formal, informal, confident, upbeat, or any other tone.
Conclusion:
It is extremely difficult to write quality and plagiarism-free content. It will require your time and effort. In place of this manual input, there are paraphrasing tools that can quickly generate original content for users. These resources are completely free and easy to use. All you need to complete your writing task is an internet connection and a paraphrasing tool.
Categorías
Tags