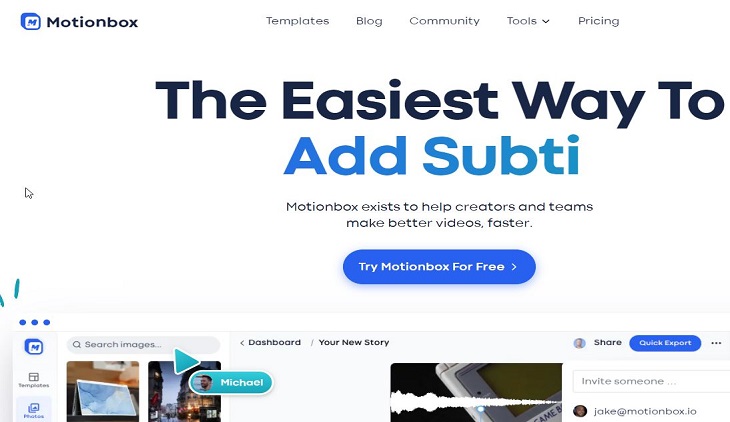 Motionbox is a videos design platform that features an arsenal of tools that cuts down the effort of creating any visual content. It features a huge library of templates that can be used as is or may serve as the foundation of your design. It also has a collection of fonts and multimedia files that include audio, images, and videos. Most of which you may freely use for your project.
Motionbox is quite easy to use, thanks to its drag-and-drop interface that brings creativity out of its users. With features such as music visualization, GIF resizer, video trimmer, and video calendar, it offers an unlimited possibility when it comes to design.
GIFs are a fun way to represent your mood, make an online jest, or add some engaging trappings to your digital design. GIFs, however, come in different shapes and sizes. Editing such images may be a daunting task for many. But if you ever need to resize or crop your GIF, you can count on the Gif Resize tool from Motionbox.
This tool comes with a simple drag-and-drop editor that lets you seamlessly resize any GIF image. It also lets you add elements that will further turn your content into a visually engaging piece. This includes shapes, background images, video, audio, and text.
Music Visualizer from Motionbox lets you create an engaging piece of content with your music at its core. This tool primarily features visualizers that are essentially tangible waveform representations of your audio. These visualizers come in different styles, and you can easily set them on top of an image or video (https://ssemble.com/).
The tool simplifies the creation of highly engaging content with audio. You begin by uploading your video to a user-friendly drag-and-drop editor. Where you can trim your music as the presentation demands and overlay its corresponding visualizer on a picture or video. You may also add a CTA and other elements that can spice up your little multimedia masterpiece.
Categorías
Tags